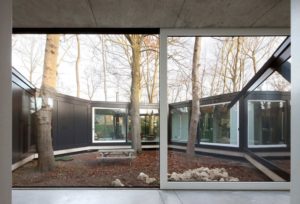 It's not winter yet, but knowing how mother nature works here in Canada means that winter can (and probably will) sneak up on us without a moment's notice. The question is, how ready are you? More importantly, how ready is your home and/or business?
Winterizing your windows and glass sliding doors is an essential part of keeping heat in and the cold out. Here are some essential tips to ensure that your sliding glass doors don't freeze shut when father winter decides to pay us a visit:
Wipe the glass door's tracks with warm water and soap before the temperature drops. Clean dirt and debris from the tracks so nothing obstructs the doors.
Apply an insulating lubricant such as WD-40 to the tracks. This helps prevent them from freezing.
Open a window in the room with the sliding glass door for a few minutes during each day when temperatures are near or below freezing. This vents the humidity that builds up inside your home, preventing condensation from forming on the glass.
Keep drapes or blinds that cover the sliding glass door open as much as possible during cold weather. This allows the warm air inside your home to contact and heat the glass more easily.
By taking the right steps to keep your glass sliding doors protected you will be able to preserve its integrity and optimize its effectiveness for a longer period of time.