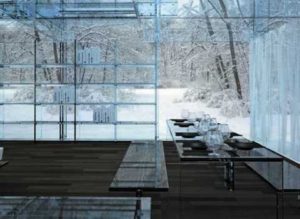 Glass is, by all means, a favourite building material when it comes to aesthetics, functionality and energy efficiency. Glass isn't often thought of when it comes to heat protection against the wintery months, and while thermal insulated glass is an essential for the colder days, we've decided to share a couple tips on how to keep extra warm with your glass windows and doors:
1. Weatherstripping and caulking. The first step in getting the most out of your current windows and doors is to plug any air leaks. Caulk inside and outside your window casing and use weatherstripping in the sash.
2. Heavier curtains. The fabric provides extra insulation and blocks drafts.
3. Doorway curtains. In an entry with a glass door, try hanging a floor-length velvet curtain directly behind the door — pulled to the side during the day, it would be a dramatic decorative accent, and at night, when pulled shut, it would provide an extra layer of warmth between the glass and the great outdoors.
4. Insulating window film. This product sticks directly to your windows, providing an extra layer of protection from the elements.
5. Storm windows and doors. These are costlier than some of the other items on this list but could make the most difference. According to the Environmental Protection Agency, adding a storm window to an older window that has been weatherstripped provides the same or better energy savings as a new dual-pane window.
There you have it, some easy, energy saving tips on how to stay extra warm in the chilly seasons. At Cornwall Glass, your glass experts, we install thermal insulated windows along with any of your glass needs.