'Optimization' seems to be one of those buzzwords that sounds great, but can be difficult to truly understand what it means and how that particular act is beneficial. To optimize something is to maximize the capabilities to their full potential in order facilitate a more effective and efficient product.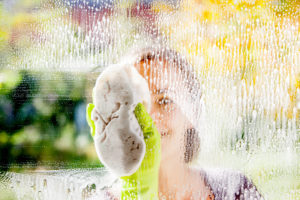 When it comes to glass windows, besides choosing the best quality and most energy efficient product, a regimen of proper maintenance is the best way to further improve the longevity of them. Here are some considerations to make when creating a plan to keep your windows looking and working their best for your space:
'Keep Moving Window Parts Lubricated
Windows that include rollers and tracks need to be lubricated every couple of months to keep them moving smoothly. Never use silicone sprays to lubricate these moving parts since they can damage any plastic your windows may contain. Instead, spray furniture polish onto them to keep them moving smoothly without jamming up on you. Once you know the rollers and tracks are well lubricated, go ahead to adjust the lock strike plates on windows that have them to ensure your windows seal and lock up properly when you need them to.
Adding Window Tinting
Window tinting is another outstanding way to help maintain windows. This is because window tinting not only helps block the sun's UV rays from entering your home or place of work, but it also can prevent windows from cracking or shattering when hard objects smack up against them. If you are unsure of how to do window tinting yourself, it is wise to hire a professional. A commercial window cleaning company can provide you with the right maintenance assistance. Not only will having a professional window tinting service provider do your windows to help with the above-mentioned factors, but it can also help ensure robbers cannot take a baseball bat or other form of weapon to smash open a window with ease if they wanted to. This allows you and your family enough time to get to some place safe to call emergency services.' (source: essenziale-hd.com)
At Cornwall Glass your Cornwall glass specialist, we can help fulfill your particular glass needs. We can accommodate projects of all sizes and scopes. Contact us to learn more about how we can help you today!