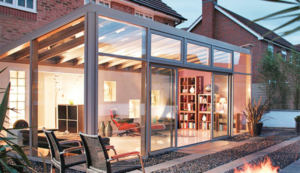 Glass is an amazing building material with modern and glamorous qualities that create the feel of openness and transparency in a home. renovations are often a big part in getting a home ready for selling, and glass additions are high on the list for adding value to a home:
New Windows: Replace old, worn-out windows with thermal glass windows. Not only will your new windows make the home more polished, but they will help save on heating and cooling bills throughout the year…definitely a plus for new buyers!
Conservatories: Adding a glass conservatory or sunroom will add an unique extra living space that will highly increase the value in your home. The extra room is perfect for transforming any wanted space by a new buyer, making a more versatile and enjoyable area for everyone. Conservatories will also allow in extra light in a home, making it beneficial for energy conservation.
Minor Additions: Bump out to a bay or bow window. Along with adding extra living space, bay and bow windows add instant visual interior and exterior appeal to homes. People value the extended space that can add room for a window seat, highlight a Christmas tree or simply bring more light into the home.
Open-Concept Floor Plans: Creating an open, transparent space in a home is gaining popularity in the interior design world, as it makes a home appear larger and creates an open atmosphere. Taking out a few walls, and adding glass partitions will increase the value to your home by opening up the space and creating a modern look.
Selling a home can be a strenuous process, and renovations should always be carefully thought out and planned. Be sure to add the most value you can with these unique and modern glass renovations! For glass services, contact Cornwall Glass, your glass experts.