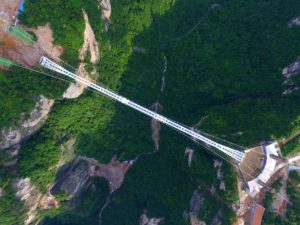 Glass is extremely versatile; the fact that it can be both a window and table (amongs many other things) is proof of that. It has so many amazing qualities, but the strength which it has that makes it more remarkable than anything else.
Could you imagine a bridge made from glass? Well, it's a reality..or, it was anyway. "A 430-metre-long glass bridge in China has closed after just 13 days after opening due to being"overwhelmed" by visitors.The Zhangjiajie Grand Canyon Glass Bridge by Tel Aviv architect Haim Dotan is believed to be the world's longest and tallest glass pedestrian bridge. The bridge is designed to hold up to 800 people and receive up to 8,000 visitors in a day, however demand has far outstripped capacity. The spokesperson said that 80,000 visitors had attempted to visit the bridge each day, leading to its closure for improvement works on 2 September 2016."
It's important to remember that no matter how strong something is, too much force all at once can jeopardize the overall integrity. Regardless of what your custom glass project is let Cornwall Glass, the Cornwall glass experts help you achieve it. The sky's the limit!