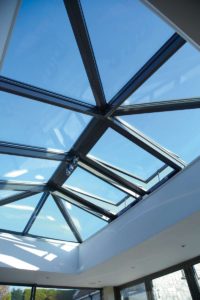 Bring on the sunshine! An amazing way to bring natural light into your home AND save on energy costs is to install roof lights! There are many different variations as well, as design opportunities for your roof light options. The installation will brighten any room and add depth and creativity for your interior design:
Energy Saving: Roof lights can drastically make a difference in the energy consumption at home. While roof lights create such an abundance of light, artificial lighting sources will be cut down and less dominant in your home; less artificial lighting, equals lower energy bills. Another amazing way to save on your energy bills with roof lights are through heating. Roof lights will generate natural heat from the sunlight, as well as keeping heat in during the winter months. This energy saving glass installation with reduce your Co2 emissions and allow for a more natural and purified living space.
Natural Lighting: Roof lights are much more convertible than standard windows, as they can fit into small or obstructed spaces. Unlike regular windows, roof lights generate three times more natural light in a home due to the placement and angle they are built.
Space: There are many options for installing roof lights such as a stairwell, hallway or even a raised roof light ceiling. It is well known that windows are amazing at opening a space, and this 100% true when it comes to roof lights. The natural light and openness can open up a small space, such as a hallway. If you are using a roof light in a larger room such as a living room or kitchen, it can extend the look of your ceiling, giving the illusion of an airy room with high ceilings.
Change the appearance of your home while being eco-friendly with beautiful roof light installations. At Cornwall Glass, your glass experts, we can provide you with design, construction and maintenance for your roof light structures.