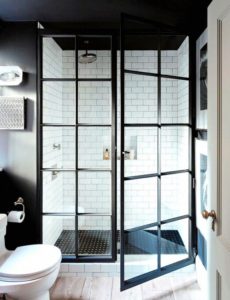 Treat yourself to a spa-like experience in your home every day! The simplest way to make your dreams of comfort and relaxation come true is with a custom made shower. There are so many options when it comes to designing your dream shower, and finding the best one for you can factor in on many things! What kind of accessibility are you looking for? What design aesthetic works for you? Check out these gorgeous custom showers that will transport you to a place of total relaxation:
Glass Room: If you want to get serious with your shower design, we suggest turning it into a partitioned area with glass walls. This walk-in shower will provide ample accessibility and create a sauna like experience. In a smaller bathroom, section off a corner for a more space efficient luxury shower area.
Steam Room: Constructing glass walls that extend up to ceiling will function as a steam room when the water turns on. Unwind and de-stress in your own steam room shower.
Switchable Glass: A shower with a view sounds like a top notch experience. If your bathroom is in a private area, creating wraparound windows and a sky roof will immerse you in your surroundings and bring in natural lighting. Switchable glass for the walls will also allow you to control your privacy when wanted.
Don't miss out on your own luxury experience at home with a custom designed shower. Let Cornwall Glass help you design, construct and maintain your glass renovations.