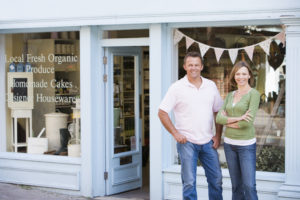 What's the key to making a good first impression? Show people something they haven't seen before, and make it memorable; dare to be different. If everyone is wearing blue, you'll automatically stand out by wearing something else. If everyone is going right, go left..and you won't get left behind.
If you own a business with a physical storefront, the idea of standing out becomes that much more important; competition is fierce these days and being able to attract the attention of people in a crowded marketplace is difficult, but not impossible. If your neighbours don't invest their time or resources into ensuring that the outside of their property (the first thing people see before they walk in) is kept to a certain standard, by doing it yourself you'll be ahead of the game.  "Of all the glass in shopfronts and commercial buildings, what takes the most abuse? Your glass entrance doors. With the daily deliveries, keys, rings and purses, graffiti, fingerprints and daily wear and tear."
Keep your business physically looking it's best by investing in property glass maintenance for your storefront. Let Cornwall Glass, your Cornwall glass experts provide you with the best ways to maintain your property through the use of only the most highly trained and experienced glaziers. Put the face of your brand in our hands.