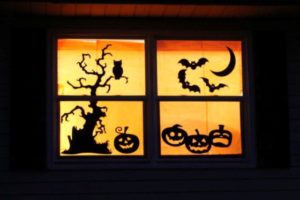 We may have just gotten a snowfall, but it is indeed only still the end of October. Although we may not have been ready for the snow, one thing that we all should be getting ready for is Halloween, as it is just around the corner.
It is usually seen as a day aimed mainly at children, but there are many ways in which adults at home and even businesses can get involved in the fun and be a part of the festivities. One way in particular is decorating your windows in a Halloween theme. The following are some great window decorating tips you may want to consider:
Turning one of your windows into the face of a gigantic jack-o-lantern
Adorn your windows with synthetic spider webbing
Use cut outs to create spooky silhouettes that can be placed in the window and seen from afar
Haunted cloth decorations (to replace or compliment current draperies)
However you decide to get into the spirit make sure you have fun with it and be careful when applying anything to your window; use safe products that will be easy to remove and clean up afterward. For more decorating ideas click here. Have a safe and Happy Halloween!