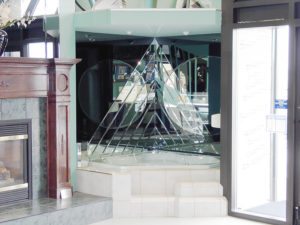 When it comes to building with glass, we say go big or go home! Glass can totally change a space, adding depth, beauty and functionality. There are so many ways to custom make glass to fit whatever design project you have in mind. With the help of a professional glass service company, you can work to create whatever you heart desires to fit and suit any space. Some creative ideas for custom glass projects are:
Full Walled Mirrors: These glass features can work in ultimately any room or space, but more specifically can work to create a custom designed, specialized room! These can include home gyms, powder rooms, or walk-in closets. The effect of full mirrored rooms can open a small space and add value to the home in general.
Wine Display/Case: If one doesn't have room for entire wine cellar in their home, no worries! Build a custom glass Wine display case and have the same (and better looking) wine/spirits encasing.These can be custom fitted to any size for any space, depending on your preference.
Custom fitted doors/windows: Adding custom designs and details into your home is an excellent way to work your personal style into your interior aesthetic. Custom glass details could include, custom designed doors (inside and outside), interior windows, glass flooring and more! Any construction in your home can be transformed into a cool, modern glass feature.
The possibilities are endless when it comes to building with glass! Glass is one of the most functional, and malleable substances, making it number #1 for best design qualities. For your custom glass project, contact Cornwall Glass, your glass experts.