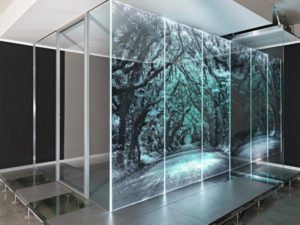 We are passionate about glass, which means we are always on the hunt for glass innovations! Breaking barriers is crucial in the world of design, and glass is by far, one of the most impressive materials to do that. One of the newest trends we've been hearing about in the field of glass innovations is LED and Laser Engraving. Here's how it works:
LED lights are not anything new, but using them with glass is. LED lights are extremely versatile, economic and eco-friendly suitors compared to other lights. With the use of LED you can create a variety of light effects and colours. The LED lights are a main contributor to the amazing effect Laser Engraving has on glass, allowing it to be further enhanced.
So, what is laser engraving? "A machine makes the incisions in the sheets of glass customized and personalized. Once inserted in the profiles thanks to the LED installed on the perimeter of these walls, the whole design will be illuminated, with truly unique scenic effects. The LED follows the way of incisions located in the plate, stopping where it no longer finds the "track"."
Putting the two amazing effects of LED lights and laser engraving together creates amazing images for a glass surfaces, whether it be a mural, business logo or designs accents. Stay up to date with Cornwall Glass to hear more about glass innovations!