When it comes to custom glass projects that are outside of the box, glass flooring is definitely on the list. Not only does glass flooring make a unique statement, it requires a more thought out strategy than regular flooring does.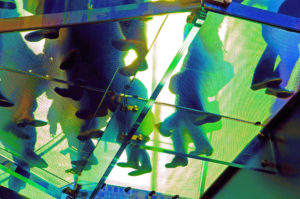 A perfect example of this would be the glass floor that is used in the CN Tower.
'The CN Tower's Glass Floor is a unique experience that has inspired an international bucket list of see-through floor experiences. The floor is 23.8 square metres (256 sq. ft) of solid glass that is five times stronger than the required weight bearing standard for commercial floors. It can actually withstand the weight of 35 moose.
Thickness: 2 ½ "
Size of each panel: 42″ by 50″
Layers from the top down:
• 3/8 " scuff plate (replaced annually)
• Two ½ " layers of clear tempered glass, laminated together
• A one inch layer of air (for insulation)
• Two ¼ " layers of clear tempered glass, laminated together
Load tests are performed annually on each panel to ensure safety. (source: cntower.ca)
At Cornwall Glass your Cornwall glass professional, we can help you effectively develop and complete your custom glass project. Whether glass flooring or otherwise, we have the expertise to create something unique to your particular needs. Contact us to learn more!