The office is more than just a place where work gets done; this specific environment is where staff have to spend time engaging with each other, collaborate on projects, and be comfortable in. The open workspace has become a popular choice for many businesses, while others prefer the more classical separation that walls/cubicles provide. Using glass is a great way to achieve the best of both worlds.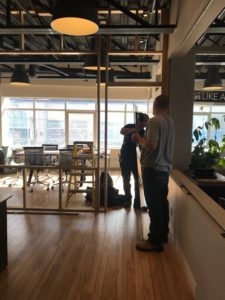 Glass Offers a Modern & Functional Design
Transparency is important to promote the best communication in any environment. In the office, being able to fully see and understand everything that's happening in the space allows for a more immersive experience. This is where glass walls come in. The greatest benefit which a glass wall can offer is the ability to separate certain parts of a space, while providing an open and connected feel. The travelling of sound within an open concept space can sometimes present a challenge; once again, glass to the rescue! Glass walls can help minimize the effect that sound has, ensuring most of it is contained within the space defined by the glass.
The above image represents a recently completed project for Xactly Design & Advertising, a commercial client that truly understands the benefit which glass walls can provide. They are undergoing a renovation to expand their current space, but want to retain the initial open and collaborative feel they started with. Here at Cornwall Glass we aim to help our clients achieve all of their specific and unique glass goals in an effective and timely way. Contact us to learn more about how we can help you today!