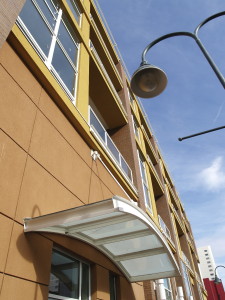 Awnings are a great way to provide shade and protection from harsh weather. Usually outfitted at the main entrance of a particular location, traditional awnings (usually composed of a weatherproof material) have existed for many years but it's the aluminum and glass awnings that have been causing a stir and created a popular trend due to their clean and modern look.
Some of the benefits of having an awning at the main entrance of your business include:
"Weather Protection
These systems afford protection from the sun, rain, snow, sleet and hail. In certain configurations, they can also protect from wind.
Architectural Aesthetics
Creative designers and architects can develop useful and intriguing designs for modern awning and canopy systems that incorporate shape, light, color, texture, graphics and structure. With these custom methods, almost any shape and size can be attained and covered."
For the best custom glass awning designs make sure to contact Cornwall Glass. They will help your business stand out with a custom glass awning that is a perfect blend of form and function which everyone will be able to appreciate.