As time moves forward, so to does the evolution of how we conduct ourselves, and the tools we use to make things happen. Once something is created, it will continue to go through different iterations in order to optimize and improve functionality. Glass and methods of strengthening and protecting it's integrity are no different.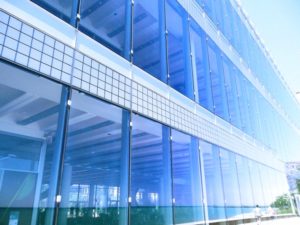 Glass coatings are pretty remarkable when it comes to how they are able to provide an enhancement and protection. "The use of advanced coating techniques and materials to improve appearance and performance of glass in particular has proven to be a constant source of successful innovation over time.Their widespread use has been a driver in the industry since the 1970's with the realization that we were about to experience an energy crisis. The markets for the coated architectural glass sector are very large and continue to grow. Industry statistics show that millions of square feet of glass are coated each year. Coating technologies have also produced several "easy-clean" glass products and what some refer to as "intelligent glass."  Research in Europe indicates that newer coating materials have the potential to further reduce reflection and improve solar control at reasonable cost.
Glass coatings can improve performance by filtering natural light, solar heat, ultraviolet radiation, sound transmission and glare. They can be divided into roughly two types: low-E coatings, which improve the energy efficiency and/or safety of architectural and automotive glass; and specialty coatings, which enhance or improve performance in some of the other useful characteristics of glass." (Brian Burton, glasscanadamag.com)
The better the quality of glass you use, the better the project which the glass is being used for will be. Here at Cornwall Glass your Cornwall glass specialist, we take pride in providing professional glass services, using only the best quality products to ensure a quality completed projected.