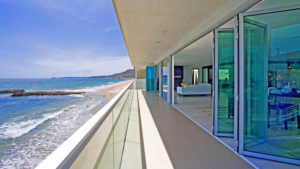 A reoccurring theme we've been seeing for 2017 has been the need for transparency in every day life, whether it be in branding, purchasing products or home atmosphere. The idea surrounding transparent lifestyles is the need for trust and better communication. When it comes to designing and building your space, home or office, transparency has become a top priority in the sense that the more open concept, the better.
Examples of using glass to create an open-concept transparent space would be the use of glass walls, interior and exterior. To take things to the next level, glass walls are becoming magic "disappearing" walls, with similar attributes to "accordion" style doors. Glass walls are being designed to fold away, leaving entire open spaces or impromptu windows and balconies.
"Luxury lifestyles don't usually adhere to the adage "less is more," but disappearing glass walls that pivot, fold or retract into pockets are changing the perception of opulence and giving new meaning to the term open concept." The use of glass has been building to accent the dream "lifestyle" of transparency.
There have been so many revolutionary improvements when it comes to building with glass, and as it goes, the act of deciding when, or if you want walls at all has now become the newest innovation. The use of glass will only become ever-more popular with society's need for a connection between a transparent life and a transparent space.
To create a beautiful open space in your home or office, reach out to Cornwall Glass, your glass experts to build towards your transparent lifestyle.
Custom Glass Projects / Glass For the Office / Glass Store Fronts / Property Glass Maintenance