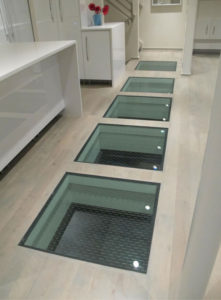 From your head to your toes, there is opportunity for glass architecture. One of the less uncommon, but absolutely striking glass features that should be considered are glass floors. Glass floors can be a beautiful addition to a home, while adding a level of spaciousness and lighting to your space. While we are sure there are a few questions about the technicalities, we have provided some answers:
Is it safe? This may be the most obvious questions for glass floors, as we will literally be walking on glass. Properly designed glass flooring is roughly 1-1 ¼ inches thick, making it around 2x stronger then regular hardwood floors.
Won't there be modesty issues with glass flooring? If you are an avid skirt/dress wearer and believe a glass floor just doesn't seem functional, there are many alternatives. You can add a frost, tint or pattern to any glass fixtures making them non-transparent.
Are glass floors slippery? Any smooth surface can be slippery, but an understated texture such as etching or patterns can be administered to create grip.
Can you use glass flooring on outside decks? Outdoor glass flooring can be really amazing for connecting with nature around you…especially if used on a balcony. The only suggestion for outdoor glass flooring is for it to be 100% waterproof.
Add that "wow" factor to your home, inside or outside, with beautiful glass flooring! For any glass services/construction contact Cornwall Glass, your glass experts.