As time continues to progress (hard to believe we're at the end of 2017 already!) so do design trends. More and more people are leaning toward creating a custom look for different spaces within the home in order to create an environment that is more personalized, and a better reflection of their particular taste.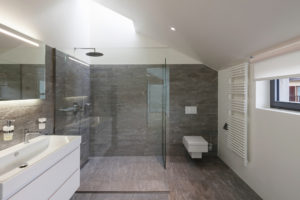 When it comes to showers a doorless more open spa-like option has become the rage, but isn't without it's own issues.
'Limited Privacy
Without a door, shower privacy will be limited. It might even mean, depending on the tenant situation, that only one person can use the bathroom at a time. Those who lean toward incorporating a doorless shower into their bathroom will need to be comfortable with that.
Escaped Water Droplet & Steam Damage
No matter how careful the design, water will manage to escape the doorless shower, in some form or another, and infiltrate the rest of your bathroom. Minimize the damage by choosing proactive bathroom materials throughout the entire space – stone, porcelain/glass, metal, and engineered quartz to name a few.' (source: homedit.com)
Solution? Working with a professional to create a shower space that is able to provide a unique look, while still offering valuable and necessary protection and privacy. At Cornwall Glass we offer a range of different glass shower options including custom frameless show doors. Contact us to learn more about how we can help you achieve your ideal shower today!