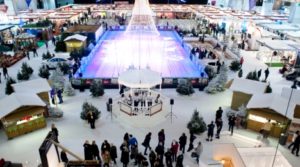 Everyday we are given glimpses of what the future of technology will look like; be it in movies, graphic novels, television shows and the like it's become easier to determine what our future world may look like. Things that may have seemed an impossibility at one point are quickly becoming reality.
When it comes to the glass industry things are no different. The uses and capabilities of glass are constantly being expanded upon as technology continues to improve. This month the 24th annual Glasstec trade fair will be taking place in Düsseldorf giving those within the glass industry an opportunity to showcase some of their latest and greatest achievements.
Here are some of the things that can be expected at this year's Glasstec event:
"Technical innovations in the melting and shaping of glass
What is the impact, for instance, of gas quality on the glass melting process? This interesting aspect will be highlighted by the independent Gas-Wärme-Institut (Gas Heat Institute) from Essen. The institute provides consultancy for industrial gas producers and consumers and conducts its own research. Other elements that impact the quality of glass manufacturing are homogeneous heat and a clean combustion process. Jochen Volkert, PhD, from promeos GmbH in Nuremberg, will present a flameless gas burner for all thermal production processes at the trade fair.
Glass Industry 4.0 – smart networking of production technologies and processes
An ongoing exchange of data enables machine systems to learn from mistakes and to avoid them in the future. Production improves during the actual process. The value chain is optimised one hundred per cent. Thanks to data networking between the various manufacturing routines, a smart system can warrant greater transparency and better safety in the creation of high-quality products. However, Industry 4.0 also requires some major data security. Glass machine manufacturers and universities are collaborating closely on this issue, e.g. Grenzebach Maschinenbau GmbH and the University of Applied Science in Augsburg. The results will be presented at a half-hour talk on Wednesday. Processes are in place, which control and regulate manufacturing operations while they are in progress. In addition, quality scanners are already in use today, scanners which can be integrated into an existing production facility at any time and which then work according to the specific requirements of each manufacturer."
As time progresses so must the processes of which we've grown accustom in order to meet new needs. For all of your speciality glass needs contact Cornwall Glass, your Cornwall glass experts.