You don't get a second shot at a first impression, so it's important to make the right statement the first time around. Glass when used for commercial purposes such as for storefronts sets a powerful tone and can work as an effective extension of your brand and your particular offerings.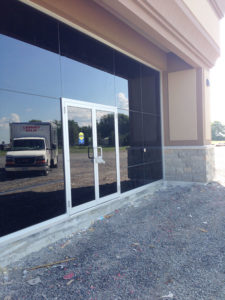 Whether you're designing a space from the ground up, or deciding on renovating a space to suit a more modern and evolving time, there are some important facts about glass (from a glass professional) to first consider:
'Easily Fitted with Different Door Systems
Flexibility is an essential feature for commercial spaces. One business may want a revolving door system, while for others, an automatic door system is important. From the traditional to the complex, glass can be easily fitted to work with any type of entranceway.
Customized Options
Glass panels can be shaped, fitted and installed to suit the unique needs of each and every business owner. Different types of glass can be used, as well as varying levels of thickness to achieve specific goals such as noise reduction, light entry and privacy. It can be clear or frosted, tinted or decorated with brand decals or other accents. It can be framed or frameless, giving business owners endless options of how they want their store to appear.
Glass Will Attract More Walk-in Traffic
With the increase in online sales, business owners have to take advantage of every opportunity they can to increase foot traffic for their storefronts. Offering a more inviting entrance is one way to attract more customers to walk in, browse a shop's offerings and potentially make a sale. Using glass for the walls and storefront doors is more inviting than steel or wood. People are more enticed to enter into a bright, airy, light-filled shop where they can see other customers browsing inside than they are to open the doors of an establishment that appears closed off or opaque.' (Gene Graham, linkedin.com)
Whatever your plans for your commercial space, consult with a professional first and determine what the best options for your particular space are in order to maximize visibility and business growth.