The entrance to your home/business should make the right statement (since it is the first thing that people see) but it should also be functional as well. A glass canopy over the entrance way can provide the perfect touch.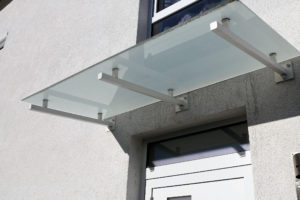 Like anything, there are some important considerations to make when choosing the right glass canopy, and they include:
'How Will Rain Water and Debris Drain?
When rain, falling leaves and other debris land on your glass canopy, you want to ensure that everything slides off so that it lands away from the house. A properly sloped or a convex glass canopy will direct rainfall to a space beyond the front entrance, providing a dry haven for homeowners upon entering and leaving their home. You can slope the glass in such a way to manipulate the drainage. Think about preventing pooling water, muddy spots, or dumping water on other design features in a way that could cause damage. It's also important to keep as much moisture away from the front door as possible, particularly if it's made from wood. An overhang can help to protect the front door, as long as it's slanted in the correct way.
How Much Coverage Will the Glass Canopy Provide?
When determining the size and angle, evaluate how much coverage the canopy will provide. Make sure that it is sufficient. A well-designed glass canopy can also help to make the home more energy efficient, stopping the sun's rays from heating the front entrance, particularly if the front door is flanked by windows.
Glass Canopy Height
If the front door canopy is too high, you may end up with a big problem – in certain weather conditions, rain could drive under the actual canopy. This will make it ineffective and a nuisance rather than a practical design element. Determine where rain will fall, particularly in heavy rain conditions, depending on what height the canopy is installed at. You can do this through simple trial and error testing before installing the glass.
Colour and Aesthetic Appeal
A transparent glass canopy over the front door can create a very classic look, especially when paired with other natural building materials, like wood and steel. Frosted glass is well-suited for creating a minimalist and modern design while also offering better sun protection. Depending on the colours of the home and especially the front door, tinted glass can also look good.' (Gene Graham, glassonweb.com)
At Cornwall Glass your Cornwall glass specialist, we can help you meet all of your professional and personal glass needs, including custom glass projects. Contact us to learn more!