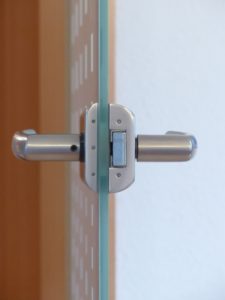 People can sometimes have conflicting feelings about glass, which comes from a real place; when you're a child and you happen to go into someone's home or a store that contains many glass made or other fragile items parents tend to explicitly stress the importance of not touching anything. This can stay with people throughout their lives, making them apprehensive to outfit their home with many glass items or go places that are predominately made of glass.
Glass is quite beautiful and versatile so it's important to become comfortable with it if you are deciding to use it within your home for structural or design (or both) purposes. Interior glass doors are a great way to make your space stand out and can offer an open concept idea while still providing an element of separation and privacy. Some other benefits of glass doors include:
"Light & Sound
One of the main benefits of internal glass doors is the increased amount of natural light they allow to flow into a room. This will make a space feel more open, while maintaining sound privacy and heat and draught insulation. In fact, glass doors can be an excellent choice for acoustic insulation. Depending on their thickness, glass doors can provide noise reduction of up to 45dB (Rw). Because of the extra light flowing in, a glass door can make a space feel much larger, so is the perfect choice for smaller rooms. A lack of natural light can make areas such as hallways feel enclosed and gloomy, so again, a glass door would be the perfect solution.
Look
Glass doors, in particular frameless glass doors, look ultra-modern and sleek, with clean lines and contemporary fittings and fixtures. They are ideal for a professional and up-to-the-minute office environment. In a commercial space, an added benefit is the option to include a company logo or colours in your glass door, with frosted or painted glass."
Regardless of your space you can make glass doors (or any other glass product) work for you. Consult with the experts at Cornwall Glass, your Cornwall glass specialist.