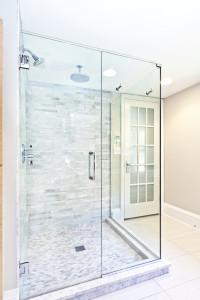 Over time, the modern bathroom has evolved from a place where you and your family spend time to get clean, to one of the most important rooms of the home, which if designed and functioned correctly can add a lot of value toward your home.
One of the biggest elements in any given full bathroom is the tub and shower. Research has shown that there is a shift toward showers over tubs, but it can vary greatly based on factors such as family size and type. Busier lifestyles would definitely make showering a much faster option than taking a bath, but that doesn't mean that you should be limited to a standard shower and tub set up.
Custom glass showers can offer your home exactly the right way to add value and accessible function that will leave everyone in your home clean and satisfied. Some of the benefits of a custom frameless glass shower include:
sleek and modern design
frameless doors are easier to clean and maintain (nowhere for mildew to grow)
no metal frame eliminates the chance of rust development
For the best in custom glass shower options and installations make sure to contact the glass experts at Cornwall Glass!