Glass is b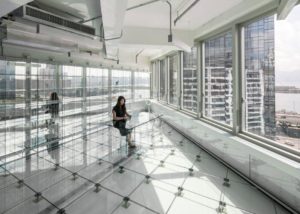 eautiful, there's no denying it.  Their properties allow shine and glimmer at every angle, and make for an architectural dream. There are endless ways to be creative and innovative with the use of glass, through special carving, structure and use of light.
 Some of the most beautiful buildings across the globe are made with custom glass structures. More commonly, office buildings have been gaining popularity for glass interiors. An entire office block in Hong Kong has been transformed into a string of glass office buildings by a Dutch architecture firm MVRDV.
 "We are moving into a transparent society, businesses are becoming more open with the public, and people care more about what goes on behind closed doors," explained MVRDV co-founder Winy Maas. The Dutch firm explains, "the process as revealing a "beautifully raw and butch primary structure", in order to give "ultimate transparency" to the workplace."
 Building with glass has moved past the confines of just a good building material, and into deeper meanings behind the link of design and overall atmosphere.
 When coming up with a concept for your building, look more into the materials and how they will bring beauty and meaning to your workplace or home. At Cornwall Glass your Cornwall glass expert, we specialize in custom glass projects to meet all of your specific needs.