The world is collectively going through a very rough patch. There's a shortage of hand sanitizer, massive lineups outside of supermarkets, and we're all on lockdown to stop the spread of the virus. It's times like these where we must overcome the challenges we're facing to adapt to this new way of life.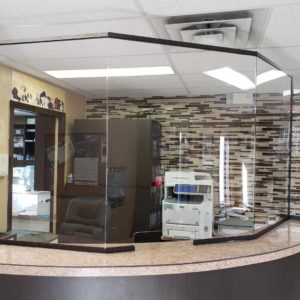 Things as simple as installing glass safety guards can be the difference between sickness and health. Here's why:
They limit face-to-face contact
Airborne diseases spread when people cough, sneeze, or talk, spewing germs into the air. This gives the bacteria a chance to land on other people or surfaces and spread the infection. You can combat this with sneeze guards. These custom-built glass guards protect the food or people on the other side.
They're easy to disinfect
Our sneeze guards are built with tempered glass and polished edges. A few sprays of cleaning solution and swipes of a microfibre towel will have your guards looks good as new.
They're quick and easy to install
Perfect for supermarkets, banks, hospitals, restaurants, hotels, and more, our sneeze guards are custom-cut to fit on any countertop. We take care of installing them, so you know it'll be done right.
This won't last forever, but it's always best to roll with the punches and to live in the now. If we learn to prevent spreading highly contagious viruses now, we might not have to bunker down again in the future.
Learn more about glass sneeze guards or call us at (613)-932-6703.